2015: New Season, New Hours!
Based on survey feedback, we have decided to have the market from 1pm-6pm on Wednesdays, June 10th – October 7th at the Surrey City Hall Plaza! Anyone interested in vending at the market can download the application here.
Thanks for a great 2014 season!
We hope you enjoyed the holiday season and relished many local foods in your celebrations! We wanted to thank you for a wonderful season in 2014, with our move to Surrey City Hall Plaza and our first ever winter market! 

After careful consideration, we have decided that December 10th was the last date for our wither market this season. For 2015, we will be working on making our summer season even better for vendors and customers alike – stay tuned for details! 
SUFM Holiday Markets, November 26th & December 10th!
Come by the next two markets on November 26th and December 10th for your holiday shopping, mid-week groceries and after-school kids' crafts! We've got some great vendors lined up, so be sure to stop by for some one-of-a-kind items!
November 26th: Winter Wonderland Crafts & Member Appreciation Day!
December 10th: Holiday Character Crafts & Recipe Demo!
Our First Winter Market is Here!
Photo by Michelle Tribe via Flickr
We are very exciting to be hosting our first ever winter market this year! The market will take place every second Wednesday, starting October 29th, in the atrium of Surrey City Hall from 12pm-4pm. Food trucks and a number of other vendors will set up outside the doors to the atrium.
INTERESTED VENDORS can download the application here.
Farmers Appreciation Day at the Surrey Urban Farmers Market!
In light of Farmers Appreciation Week, we will be hosting Farmers Appreciation Day on Wednesday, September 10th at the market! We will have music featuring Jordan Pritchettand Brown Paper Bag, guest speakers,  a corn roast, and pie & ice cream! We will also have a photo booth where you can take some farmer-inspired photos! So be sure to stop by anytime between noon and 5pm to show our farmers some love!
2014 Market Season
There have been two exciting changes this year for the Surrey Urban Farmers Market. First of all, we've moved to the Surrey City Hall Plaza! It's a great location and we're very excited to host our market there.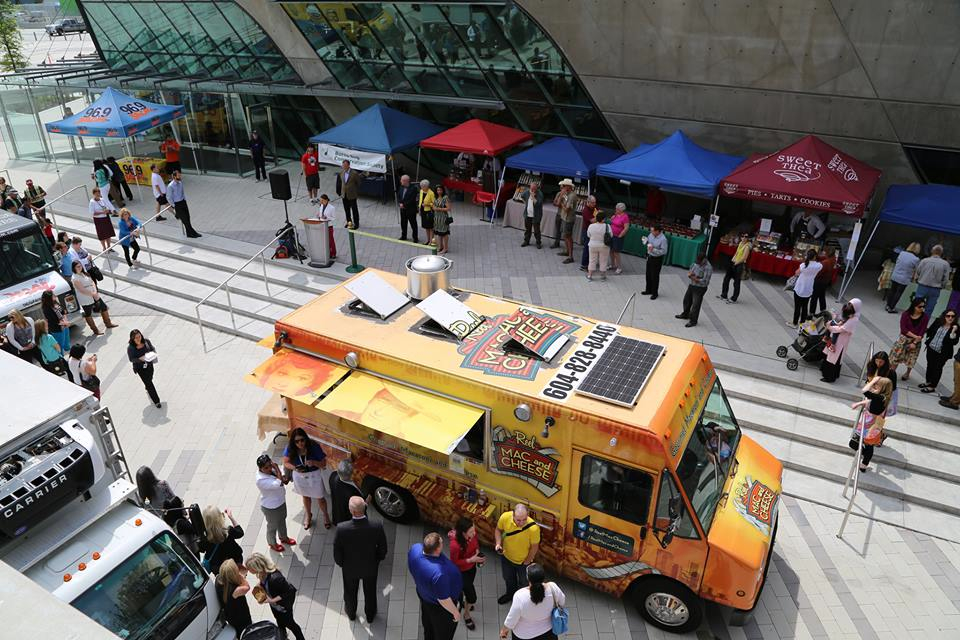 The second change is market hours: the Surrey Urban Farmers Market will now be open from 12pm-5pm every Wednesday from June 11th to October 8th. Catch some tunes on your lunch break or swing by for an early dinner!
This year at the market you can also look forward to monthly features including recipe demonstrations, art displays, local vendor showcases and more!
Vendors still interested in applying to be at the market can find the application under the "Vendors" tab of our website.
In Your Community
Did you know that the Surrey Urban Farmers Market works with community groups to make fresh vegetables, fruit, nuts, meat and dairy available for folks who may not otherwise be able to afford it?
Thanks to Healthy Families BC and the BC Association of Farmers Markets, we are able to work with Umoja Operation Compassion Society and Oak Avenue Neighbourhood Hub to provide 60 families and 20 seniors with Farmers Market Nutrition Coupons.  We are so thrilled to be able to be part of this program this year again and hope that it will grow even bigger next year!
Market Beets Stage
At the Surrey Urban Farmers Market we love to support local musicians as well as local
food! Every week we welcome the talents of different musicians for an afternoon that may include original work, a walk down memory lane, or tunes that cause you to get up and dance!
If you're a regular you might recognize the musical talents of Joe Given, Yvon Langlois, Braden Daniel or Chris the Accordion Guy. Don't be shy to request your favourite song!